Robot Painting Machine SPD2500D-3D
Short Description:
Affordable Robot Painting Machine with the Advantage of Maintaining a High Degree of Flexibility
1.  3D Scaner, special reading software read the dimension and routed grooves on the panel
2.  Automatic self programming and Painting
3.  Automatic Spray guns and paint tube cleaning system
4.  Including the Laser position system
5.  Industrial PC and touch screen control, easy operation
7.  Output: 20-25 doors per hour
8.  Air pressure and exhaust system
9.  Application: Wood door, kitchen cabinet, furniture elements, wood panel, decorate material, table, bedroom and other wood products
GODN provides compact and affordable Robot Painting Machine with the advantage of maintaining a high degree of flexibility.
To know more about this machine, Contact us Now!
:
Product Detail
Product Tags
Description of Robot Painting Machine
The Automatic Robot Painting Machine is specific designed to spray the various panel-type workpiece, like wooden panels, flat door, raised door, cabinet door, stair and other furniture components.
Features of Robot Painting Machine
1. Automatic painting machine allows paint guns to operate in five axes (X,Y,Z,A,B);
2. Gun movements are programmable: linear motion goes along the X,Y,Z axis and rotation motion goes around the vertical (A) and horizontal (B) axis;
3. Painting head allows for installation of up to 4 automatic paint guns;
4. Number of installed paint spray guns and their functionality (e.g. rotary or fixed) depends on specifics of a painting process;
5. Painting head speed is up to 100 m/min in the horizontal plane (along the X and Y axes) and up to 30 m/min in the vertical plane (along the Z axis);
6. Automatic paint spray guns that apply material with preset working parameters minimize paint material losses, reduce time of painting process and filter fatigue;
7. A glazed spray booth with an air filtration system and inside lighting allows for ongoing control of a painting process;
8. Service door facilitates access to the interior of the paint machine which is incorporated in the system of emergency shutdown of the paint machine in the event of opening it during operation;
9. Compact design of the paint machine along with accessories and equipment minimizes amount of space required for installation of the machine and current operations;
10. The turntable increases efficiency of operations by shortening loading and unloading times of workpieces;
11. The upender allows the door leaf to be painted on both sides during a single loading of the painting machine;
12. Aperture stop automatically closes and opens when the operating mode is activated to ensure maximum cleanliness in the lacquering area.
13. Automatic paint reclaim system and spray gun cleaning system is applied;
14. It can be installed in existing paint booths with a pre-installed air exchange system.
Technical Parameters of Robot Painting Machine
| | |
| --- | --- |
| Max.Working Dimension | 2500x1300x300mm |
| Max.Working Weight | 50kg |
| Gun Movement Speed | 100m/minute |
| Total Power | 11.7kw |
| Supply fan power | 3kw |
| Exhaust fan power | 2.2kw*2=4.4kw |
| Compressed air pressure | 0.6-0.8Mpa/6-8Bar |
| Compressed air consumption | 100 l/min (excluding paint spray guns) |
| Working Efficiency | 1.5-3minutes per working area |
| Loading time of elements into the working area | 10s (turntable rotation time) |
| Operator | 1-2 person |
| Weight | 3200kg |
| Overall Dimension | 5700*5940*2864mm |
Footprint of Robot Painting Machine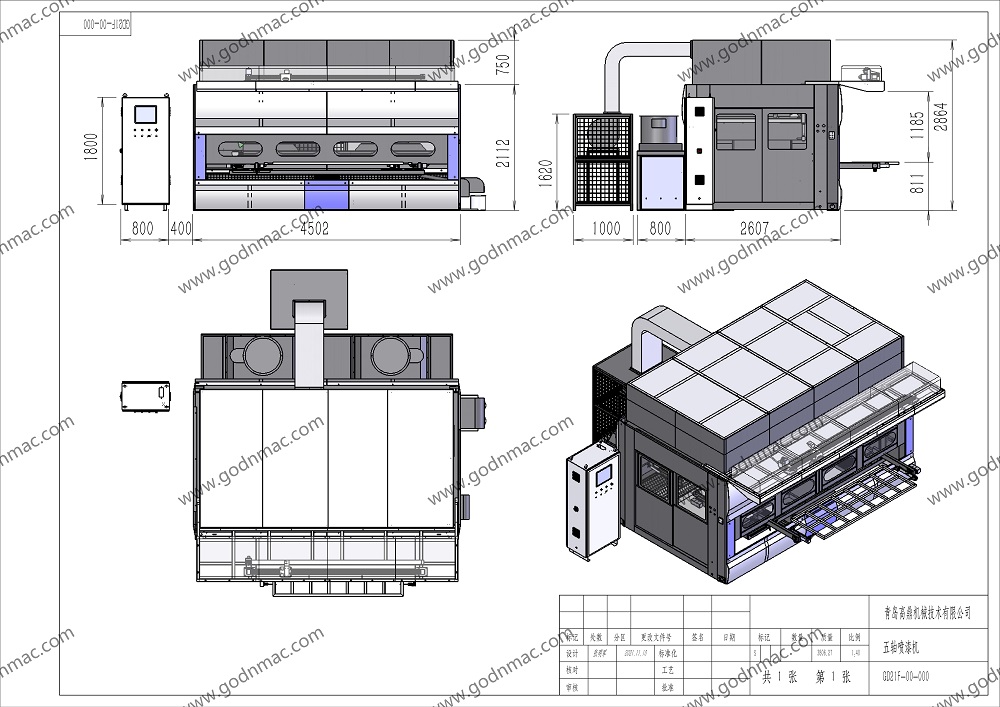 Application Fields of Robot Painting Machine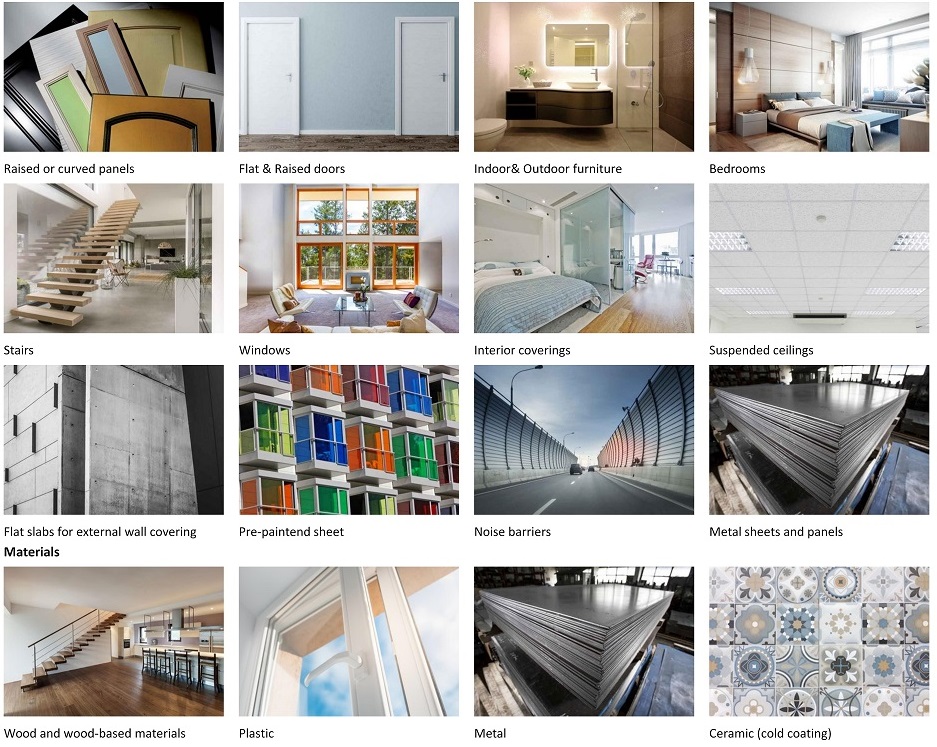 Are you considering investing in a Robot Painting Machine? We look at all of the benefits you can reap when making the shift towards machine spray painting.
Benefits of Using a Robot Painting Machine
If you work in a business that is within the industrial and manufacturing industries, including furniture, construction and automotive, the chances are you have needed to work with paint products for finishing your products.
Whilst working with paints can be a rewarding process, it can also be a difficult, time consuming, and labour intensive process, depending on what it is you are having to paint. There are however ways around this, by using a Robot Painting Machine to automate the process.
Need some convincing on why you should invest in a Robot Painting Machine and use it in your production process? Here are some of the benefits you can expect from a Robot Painting Machine.
Speed and productivity
One of the main and most obvious benefits of using a Robot Painting Machine is the speed in which they can complete your paint jobs. If your product line is filled with items that need to be painted a Robot Painting Machine can get the work done faster and more consistently than manually spraying. Don`t worry, while Robot Painting Machines work faster, they don`t compromise on quality – they improve it!
Robot Painting Machines will improve productivity throughout your factory, removing bottlenecks often created by the painting process, and de-skilling the operation to make labour recruitment less specialised.
Robot Painting Machines are available in a variety of configurations that can be tailored to suit low, medium and high volume requirements, and Robot Painting Machines are designed for maximum flexibility and ease of use. With Robot Painting Machine options for single and double arm reciprocating machines with 4 to 8 spray gun capability, single or double 6 axis control spray heads and complete single or double robot spray systems the solutions are endless!
Consistent coating
A Robot Painting Machine can consistently paint products with an even and controlled thickness of paint, ensuring total coverage with a smooth, professional and high quality finish. Of course, maintaining high quality finishes depends on regular cleaning of your Robot Painting Machine!
With complete control of the spraying process a Robot Painting Machine can provide significant savings on paint usage, typically around 20%, against manually sprayed products, which can go a long way to helping finance the Robot Painting Machine of your choice!
Accessible & Easy to Use
Robot Painting Machines whilst being smart and innovative machines are easy to use. Your workers can easily implement these into their working routine and use them daily with no complications due to the easy user-interface and fast set up. The Robot Painting Machines are fully accessible for maintenance and cleaning, and filters are easily changed, so no excuses for a dirty machine!
Software - the software installed on our Robot Painting Machines has been developed over many years of experience manufacturing and installing Robot Painting Machines. The software is easy to use and allows the operator full control of the relevant machine functions and to save programmes created for different applications.  
Spray Machine or Manual Spraying?
There are many benefits to a spray machine compared to manual spraying already mentioned but here is an important one…
When manually spraying, overspray is a major issue due to the operator being human! When operators get tired the spray quality drops resulting in inconsistent finishes and excess paint usage.  However, Robot Painting Machines have control of the paint quantity and overspray from the machine control, and have a specially designed system to ensure better air distribution, which helps to direct paint to the products being sprayed, resulting in uniform finishing and thickness providing significant savings on paint usage and high quality, consistent finishing, time and time again.
Invest in a Robot Painting Machine Today
Are you ready to ramp up the productivity in your workplace and send more products out of the door of your factory? Then a Robot Painting Machine is an essential piece of equipment to add to your current set-up.
Here at GODN Machines, we have years of experience in providing businesses with high-quality machinery and equipment. Get in touch with a member of our team if you have any questions about our comprehensive range of Robot Painting Machine as well as any other questions or queries about our business or the other range of products we offer.
Our mission is to provide businesses with innovative machinery and tools to help them compete in this highly competitive world and this particularly competitive sector. GODN Machines Ltd are the perfect choice for Robot Painting Machines. Get yours today.
If you need a customized solution?
---
Previous:
Paint Robot SPD2500D-3D
---