Automatic Paint Spraying machine SPM1300PU
Short Description:
1.Wide spraying booth with Large glass structure
2.Pressurized cabin with big filters with double filtering stage, ensure high quality product finish.
3.Double suction filters, ensure long working autonomy.
4.Reading Bar – Piece reading device that allows high paint saving
5.Belt conveyor or Pin Type conveyor optional, suitable for different production requirement
6.Industrial PC and user friendly PLC Touch Screen Machine interface,
7.High output: 1600-2000m2 per shift in 8 hours
8.Flexibility, reliability, user-friendly low running costs, ideal solution for just in time production.
GODN provides compact and affordable Automatic Paint Spraying machine with the advantage of maintaining a high degree of flexibility.
To know more about this machine, Contact us Now!
:
Product Detail
Application
Benefits
Why
How
FAQ
Product Tags
Description of Automatic Paint Spraying machine
Extremely flexible, modular oscillating spray machine for small and medium outputs, suitable for the application of any type of water or solvent-based paint. It is ideal for small to medium sized businesses that are looking for flexibility and productivity as well as cost-effective use.
Features of Automatic Paint Spraying machine
l Reading Barrier
Equipped with a high-precision photodiode reading barrier for scanning incoming workpieces. Precise scanning of workpieces' size and the processing of their position by the control software allows spraying to be optimised, minimising the wastage of paint.
l Spraying System
The spraying system consists of 2 oscillating arms, each is electronically controlled. Both arms have 4 guns and two paint circuits.

Valve and time control can be handled directly by the software.

Flexibility, reliability, user-friendly low running costs: ideal solution for just in time production.

Wide spraying booth, with filtering pressurization Glasses installed on 2 sides, ensures perfect visibility during the functioning.
l Pressurization System
A Plenum guarantee a flow of perfectly clean air into the spraying zone, eliminating overspray residues during processing. The perfect pressurization system which is important to the cleanliness of your product finish.
l Overspray Filtration
Overspray is sucked through two-stage dry filters: the operating maintenance costs of this system are reduced to a minimum. The large filtering surface area guarantees better air distribution, which translates into uniform finishing and a cleaner machine, ensure long working autonomy.
l Conveyor System
SPM1300 can be equipped with belt conveyor or Pin type conveyor system
A solvent resistant feed belt in anti-static material - easy to clean. The material scrape (squeegee) cleans the belt at the downside of the out-feed, so it returns to the application area, completely clean. This is great for recoverable water based materials or solvent-based paint. The configuration is equipped with a automatic recovery and cleaning system, which minimises maintenance procedures and solvent use. It also features a automatic belt centring system to ensure a perfectly stable working surface.

The Pin type conveyor is the perfect solution for glues and non-recoverable paints which saves on conveyor disposal costs, which also keeps the underside of panels perfectly clean as well as guaranteeing immaculate, uniform application on edge and face. 

Included are the in-feed and out-feed conveyors. These are both powered conveyors and are controlled by the PLC of the machine.
l Control Panel
SPM1300 has an electric control panel with PLC and machine control software, with a 15" colour touch screen panel is user friendly.
Technical Parameters of Automatic Paint Spraying machine
| | |
| --- | --- |
| Model | SPM1300PU |
| Max. Spraying Width | 1300mm |
| Max. Thickness Of Work Piece | 80mm |
| Max. Feeding Speed | 5m/min |
| Air Pressure | 0.5-0.8 M pa |
| Total Power | 13kw |
| Foot Print | 5400*4400*2500mm |
| Weight | 4000kg |
| Operator | 2 person |
Footprint of Automatic Paint Spraying machine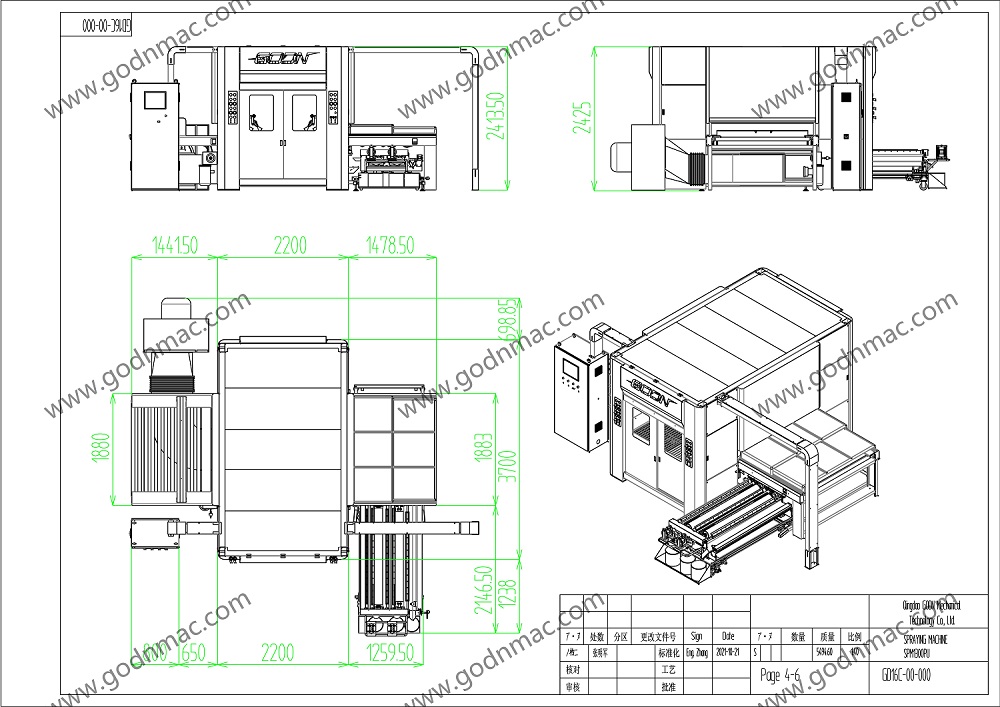 ---
Previous:
Auto spraying machine
---
Applications for Automatic Spray Coating systems
| | | |
| --- | --- | --- |
|   |   |   |
| Raised or curved panels | Flat & Raised doors | Indoor& Outdoor furniture |
|   |   |   |
| Stairs | Windows | Bedrooms |
|   |   |   |
| Interior coverings | Pre-paintend sheet | Noise barriers |
|   |   |   |
| Flat slabs for external wall covering | Suspended ceilings | Metal sheets and panels |
Efficient coating systems for just about any industrial coating application
| | | |
| --- | --- | --- |
|   |   |   |
| Wood and wood-based materials | Plastic | Metal |
Wet-painting systems based on the spray coating process for paints, adhesives, bonding agents, and functional coatings
Spray media lacquer
Other spray media
Spray gun variants

1K lacquer

2K lacquer

Water-based coatings

Solvent lacquers

UV curing varnishe

Combinations of lacquers

Pickling

Nanocoating

Anti-scratch coating

Corrosion protection

Sol Gel

Adhesive applications

Air

Airmix

Airless

Electrostatics
Are you considering investing in a PANEL AUTOMATIC PAINTING MACHINE? We look at all of the benefits you can reap when making the shift towards machine spray painting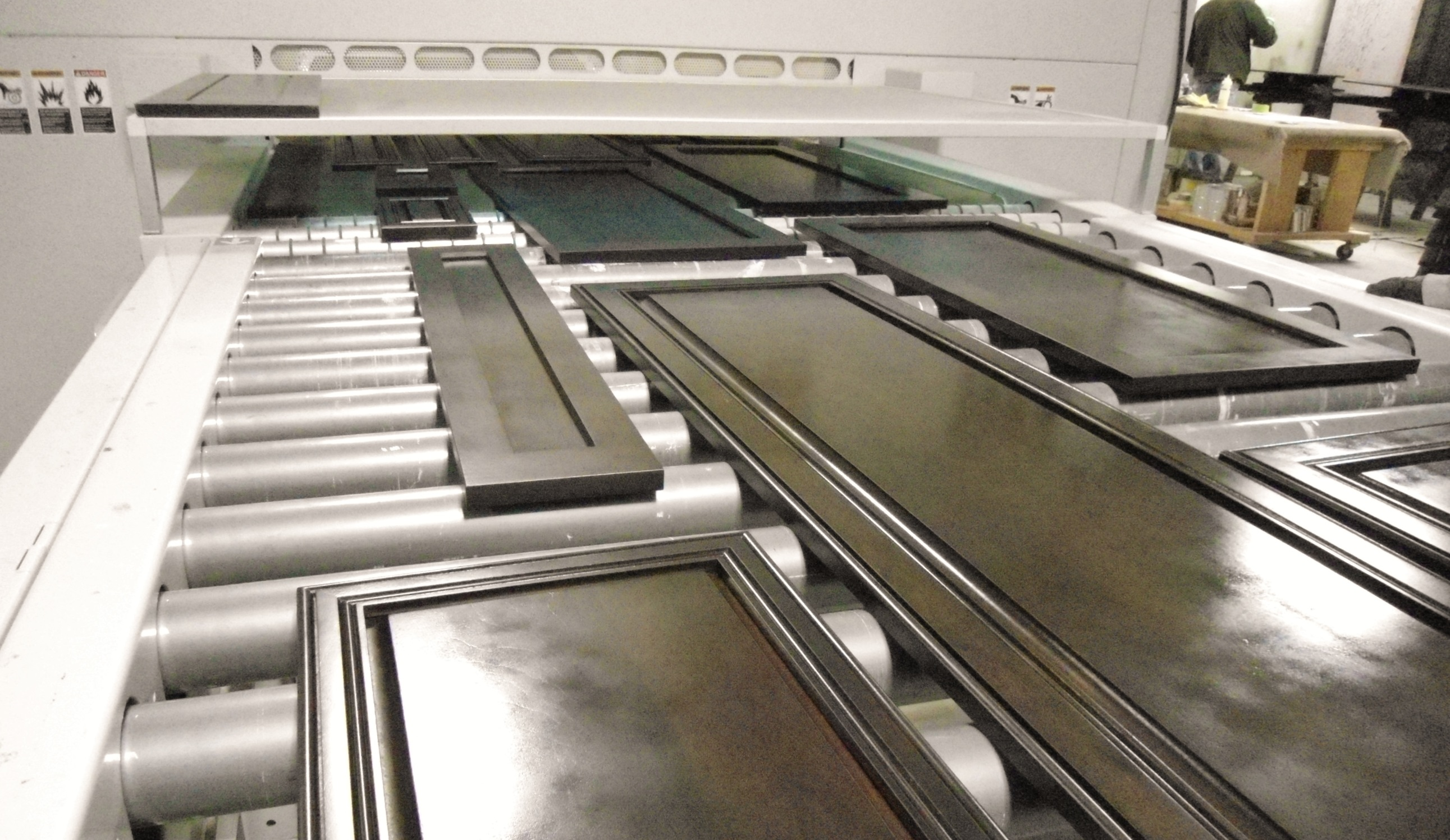 Benefits of Using a PANEL AUTOMATIC PAINTING MACHINE
If you work in a business that is within the industrial and manufacturing industries, including furniture, construction and automotive, the chances are you have needed to work with paint products for finishing your products. 
Whilst working with paints can be a rewarding process, it can also be a difficult, time consuming, and labour intensive process, depending on what it is you are having to paint. There are however ways around this, by using a PANEL AUTOMATIC PAINTING MACHINE to automate the process.
Need some convincing on why you should invest in a PANEL AUTOMATIC PAINTING MACHINE and use it in your production process? Here are some of the benefits you can expect from a PANEL AUTOMATIC PAINTING MACHINE.
Speed and Productivity
One of the main and most obvious benefits of using a PANEL AUTOMATIC PAINTING MACHINE is the speed in which they can complete your paint jobs. If your product line is filled with items that need to be painted a PANEL AUTOMATIC PAINTING MACHINE can get the work done faster and more consistently than manually spraying. Don`t worry, while PANEL AUTOMATIC PAINTING MACHINEs work faster, they don`t compromise on quality – they improve it!
PANEL AUTOMATIC PAINTING MACHINEs will improve productivity throughout your factory, removing bottlenecks often created by the painting process, and de-skilling the operation to make labour recruitment less specialised.
PANEL AUTOMATIC PAINTING MACHINEs are available in a variety of configurations that can be tailored to suit low, medium and high volume requirements, and PANEL AUTOMATIC PAINTING MACHINEs are designed for maximum flexibility and ease of use. With PANEL AUTOMATIC PAINTING MACHINE options for single and double arm reciprocating machines with 4 to 8 spray gun capability, single or double 6 axis control spray heads and complete single or double robot spray systems the solutions are endless!
Consistent Coating
A PANEL AUTOMATIC PAINTING MACHINE can consistently paint products with an even and controlled thickness of paint, ensuring total coverage with a smooth, professional and high quality finish. Of course, maintaining high quality finishes depends on regular cleaning of your PANEL AUTOMATIC PAINTING MACHINE!
With complete control of the spraying process a PANEL AUTOMATIC PAINTING MACHINE can provide significant savings on paint usage, typically around 20%, against manually sprayed products, which can go a long way to helping finance the PANEL AUTOMATIC PAINTING MACHINE of your choice!
Accessible & Easy to Use
PANEL AUTOMATIC PAINTING MACHINEs whilst being smart and innovative machines are easy to use. Your workers can easily implement these into their working routine and use them daily with no complications due to the easy user-interface and fast set up. The PANEL AUTOMATIC PAINTING MACHINEs are fully accessible for maintenance and cleaning, and filters are easily changed, so no excuses for a dirty machine!
Software - the software installed on our PANEL AUTOMATIC PAINTING MACHINEs has been developed over many years of experience manufacturing and installing PANEL AUTOMATIC PAINTING MACHINEs. The software is easy to use and allows the operator full control of the relevant machine functions and to save programmes created for different applications.  
Spray Machine or Manual Spraying?
There are many benefits to a spray machine compared to manual spraying already mentioned but here is an important one…
When manually spraying, overspray is a major issue due to the operator being human! When operators get tired the spray quality drops resulting in inconsistent finishes and excess paint usage.  However, PANEL AUTOMATIC PAINTING MACHINEs have control of the paint quantity and overspray from the machine control, and have a specially designed system to ensure better air distribution, which helps to direct paint to the products being sprayed, resulting in uniform finishing and thickness providing significant savings on paint usage and high quality, consistent finishing, time and time again.
Invest in a PANEL AUTOMATIC PAINTING MACHINE Today
Are you ready to ramp up the productivity in your workplace and send more products out of the door of your factory? Then a PANEL AUTOMATIC PAINTING MACHINE is an essential piece of equipment to add to your current set-up.
Here at GODN Machines, we have years of experience in providing businesses with high-quality machinery and equipment. Get in touch with a member of our team if you have any questions about our comprehensive range of PANEL AUTOMATIC PAINTING MACHINE as well as any other questions or queries about our business or the other range of products we offer.
Our mission is to provide businesses with innovative machinery and tools to help them compete in this highly competitive world and this particularly competitive sector. GODN Machines Ltd are the perfect choice for PANEL AUTOMATIC PAINTING MACHINEs. Get yours today.
How Automated Finishing Will Save Your Business Money?

When manually finishing products for the marketplace there are many factors that could reduce the profitability of your business. The quality of the finishing could be inconsistent, staffing shortages could create a gap in production, or the cost of labor could lower your profit margins. These are important considerations for deciding whether an automated finishing solution is right for your business.
What is Automated Finishing?
When manufacturing cabinets, doors, windows, building products, glass, moulding, or architectural millwork each piece requires finishing touches before being sent to the showroom floor. Typically finishes include sanding, spraying, drying, and coating. You could hire someone to do each of those steps in your manufacturing plant, or you could have a machine that automatically does it all for you.
Why Buy Automated Finishing Equipment?
There are a number of factors that should go into your decision. Here are some of the most important points to consider.
Quality Counts
The first impression is everything. If a customer sees that your product has a poor finish, or the quality is inconsistent, then they are going to keep searching for another product. Automated finishing removes the risk of poor quality by consistently providing the same finishing touches to each component of your product line.
Today's Labor Market is Tough
With low unemployment rates it can prove challenging to find skilled candidates to join your team. Once you find someone, proper training typically requires 6 months – 2 years. And because manually finishing products can be such hard work, the turnover rate for these positions tend to be high. In addition wages continue to push higher for these positions, which can eat away your profit margins year over year.
As a comparison, an automated finishing system will never call in sick, expect a raise, limit production capabilities due to fatigue after a long day of painting, or cause the quality of your product to suffer due to a hangover.
Increased Production
How many units are you manufacturing each day? Compare that to how many you are finishing each day. Odds are it's taking you a lot longer to finish your products due to the time consuming nature of spraying, drying, and sanding. An automated finishing solution typically reduces the amount of labor required by 50%!
Spray machine finished kitchen cabinets 75% faster than manual spraying.
Efficiency Matters
Automated finishing is more efficient than manual and reduces overall costs. A Superfici America spray machine offers high application efficiency (transfer efficiency), uses less paint resulting in lower coating costs, and it emits lower VOCs, which equals lower permitting costs and a reduced carbon footprint. Automated systems can also use coatings that typically cannot be applied manually, like UV coatings.
How Much Do Automated Finishing Systems Cost?
The answer depends on your specific business needs, but here's an example to give you an idea of what you might expect. An entry-level spray machine costs approximately $50,000. At face value that may seem like a big investment, but let's put it into context.
If you finance the spray machine for 5 years, then you're paying roughly $45/day. Hiring a painter at $8/hour would cost you $64/day. That's a painter who may or may not show up, who is going to get tired and produce lower quality work, and whose production is limited. And if that painter quits you have the difficult task to find and replace them.
Learn More About GODN Spraying
We understand the decision to invest in automatic finishing equipment is significant, and that's why our team is ready and able to answer any questions you may have about our line of equipment and what solutions would work best for your company. Contact us to learn more.
How it Works?
SPD2500D CNC SPRAY MACHINE
SPD2500D-3D CNC SPRAY MACHINE
What are the advantages of spray coating?
Firstly, spray coating ensures all sides of the piece are covered. Secondly, the product shape is unimportant and, since it is not a contact-type coating, different tolerances between products are compensated for automatically.
How can I measure coating quality?
While quality is subjective, it is possible to measure the quantity of coating applied at each point. It's also possible to measure gloss or matt levels using appropriate instruments.
What are the consumption factors I need to take into account in a spray coating process?
Lacquer is the key factor to be monitored, as it is the most expensive aspect of the process. Any variations can make the process more or less sustainable and also have an impact on process quality.
The other consumable will concern some compressed air and electricity.
How simple is it to use a spray coating machine?
This depends on the type of machine, the type of conveyor (Rod/Pin Chain or continuous belt) and the type of filtration (paper or water).
Those who opt for a Rod/Pin conveyor machine will observe many similarities with manual coating methods: start-up, spray gun feeding, cleaning and replacing filters.

Those who go for a machine with continuous belt conveying will need to perform preparation and maintenance associated with the retrieval and cleaning trolley; nevertheless, these tasks are simple.
What's the difference between an anthropomorphic robot and a Cartesian robot?
Differences relate to the degree of freedom, the type/number of movements they can make and the angles they can achieve.
Anthropomorphic robot: more freedom, virtually unlimited 3-way movement. Unlimited spray gun positioning.

Cartesian robot: less freedom, but can accelerate and move much faster. Limited spray gun positioning.
How long does it take to clean a spray coating machine?
Cleaning times vary according to requirements. End-of-shift cleaning, week-end cleaning and extensive cleaning before a prolonged idle time must be scheduled. The end-of-shift cleaning time, for instance, depends on the product conveying systems, and on the type of overspray filtration; it usually ranges between a few minutes (12-15) up to 25-30 minutes.
On machines with pin conveying and paper filters, very little time is needed.  All you need to do is clean the guns and pump, and replace and discard filters as necessary.

Continuous belt machines require more time at the end of the shift as maintenance tasks concerning the belt retrieval and cleaning device needed to be performed.
With paper-based filtration, the filters must be replaced; water-based filtration requires no maintenance as the system continuously "self-cleans" during operation.
Can I measure lacquer consumption on spray coating machines?
Thanks to flow control systems, you certainly can. However, the coating quality is not necessarily strictly linked to lacquer consumption.
I want to switch from manual coating to automatic coating, what do I need?
Space requirements are similar to those of a manual booth. All tasks can be performed by the same worker who, instead of coating, operates the machine.
Is a coating machine very maintenance-intensive?
Usually, it isn't, especially if the machine is correctly maintained and cleaned every time it is used. It is a general truth that daily care often extends the machine's life and prevents malfunctioning.
As with manual coating system, maintenance largely concerns the pump and spray guns (i.e. the coating application system).
In the case of a machine with continuous belt conveying, cleaning and retrieval system maintenance is also required.
Machines with water filtration will also require maintenance of the continuous filtration device.
Is there a maintenance service available in my area?
Our network of distributors and branches stretches across the globe. Finding the service you need in your country should be easy. Alternatively, we can send spare parts and technicians directly from our headquarters in just a few days.
Can I manage colour changes?
Yes, dedicated procedures mean they can be managed quickly on all our machines.
Can I manage programming of my workpieces easily?
In the case of oscillating spray machines, all you need to do is provide some parameters and, thanks to the incoming piece reading system, each piece is then coated according to the information entered.
With robots, different work modes are possible so it is necessary to define the way and the order in which you wish to execute strokes and whether to coat certain product parts or not. Programmed this way, each piece loaded and read by the reading system is automatically processed as per the saved information.
Are edges also spray coated?
Of course. This technology was specifically designed to coat surfaces and edges.
What sort of finishes can I achieve with a spray coating machine?
Any finish is possible. However, a given finish can or cannot be achieved depending on factors that are not always and not only linked with the coating machine. A correct preparation of the material is necessary, and very important; proper drying is just as important.
What do I need apart from the spray coating machine?
It is advisable to have a drying system connected to the machine. This ensures more consistent results. It also lowers the percentage of waste compared to simple air drying, which involves some risk of contamination. What's more, some finishes require special drying conditions (temperature, air speed) so an oven is definitely recommended where certain finishes are needed.
Automatic conveying, loading and unloading systems can be required – in addition to sanding machines, cleaning systems or machines, drying ovens, etc.
How can I boost productivity?
By raising the number of machines or lines, and by increasing (within certain limits) the speed of the machine itself.
How flexible is the machine?
Extremely. Just replacing the product in the spray guns and making a few other adjustments can radically alter the coating. Flexibility is even more pronounced where pin/rod conveying machines are used, as there are no tasks related to the lacquer retrieval and belt cleaning system.
Are sustainable coating machines available?
Sustainability varies from one machine to the next, but depends more on the actual coating process.
Can I get spare parts easily?
Yes. You can order spare parts by email or phone. 
What shapes can my items have?
For supported ("flat") items, any shape is acceptable but with two prevailing dimensions. This allows the item to be fed through the line/machine and guarantees an acceptable degree of item stability.
Can items of different shapes be sprayed at the same time?
Yes, this is possible.
What kind of robots are needed for 3D item coating?
Cartesian or anthropomorphic robots.