Automatic Oscillating Spraying Machine SPM1300PU
Short Description:
The Two-arms oscillating spray machine, suitable for the application of any type of water or solvent-based paint. It is ideal for small to medium sized businesses that are looking for flexibility and productivity as well as cost-effective use.
1.lWide spraying booth with Large glass structure
2.lPressurized cabin with big filters with double filtering stage, ensure high quality product finish.
3.lDouble suction filters, ensure long working autonomy.
4.lReading Bar – Piece reading device that allows high paint saving
5.lBelt conveyor or Pin Type conveyor optional, suitable for different production requirement
6.lIndustrial PC and user friendly PLC Touch Screen Machine interface,
7.lHigh output: 1600-2000m2 per shift in 8 hours
8.lFlexibility, reliability, user-friendly low running costs, ideal solution for just in time production.
9.lApplication: Raised or curved panels, Flat & Raised doors, Indoor& Outdoor furniture, Bedrooms, Stairs,Windows, Interior coverings, Suspended ceilings, Flat slabs for external wall covering,Pre-paintend sheet, Noise barriers, Metal sheets and panels, and plastic parts
GODN provides compact and affordable Automatic Oscillating Spraying Machine with the advantage of maintaining a high degree of flexibility.
To know more about this machine, Contact us Now!
:
Product Detail
Product Tags
Description of Automatic Oscillating Spraying Machine
Extremely flexible, modular oscillating spray machine for small and medium outputs, suitable for the application of any type of water or solvent-based paint. It is ideal for small to medium sized businesses that are looking for flexibility and productivity as well as cost-effective use.
Features of Automatic Oscillating Spraying Machine
l Reading Barrier
E

quipped with a high-precision photodiode reading barrier for scanning incoming workpieces. Precise scanning of workpieces' size and the processing of their position by the control software allows spraying to be optimised, minimising the wastage of paint.
l Spraying System
The spraying system consists of 2 oscillating arms, each is electronically controlled. Both arms have 4 guns and two paint circuits.

Valve and time control can be handled directly by the software.

Flexibility, reliability, user-friendly low running costs: ideal solution for just in time production.

Wide spraying booth, with filtering pressurization Glasses installed on

2 sides, ensures perfect visibility during the functioning.
l Pressurization System
A Plenum guarantee a flow of perfectly clean air into the spraying zone, eliminating overspray residues during processing. The perfect pressurization system which is important to the cleanliness of your product finish.
l Overspray Filtration
Overspray is sucked through two-stage dry filters: the operating maintenance costs of this system are reduced to a minimum. The large filtering surface area guarantees better air distribution, which translates into uniform finishing and a cleaner machine

, ensure long working autonomy.
l Conveyor System
SPM1300 can be equipped with belt conveyor or Pin type conveyor system
A solvent resistant feed belt in anti-static material - easy to clean. The material scrape (squeegee) cleans the belt at the downside of the out-feed, so it returns to the application area, completely clean. This is great for recoverable

 

water based materials or solvent-based paint.

 

The configuration is equipped with a automatic recovery and cleaning system, which minimises maintenance procedures and solvent use. It also features a automatic belt centring system to ensure a perfectly stable working surface.

The

Pin type

 

conveyor is the perfect solution for glues and non-recoverable paints

 

which saves on conveyor disposal costs,

which

also

keeps the underside of panels perfectly clean as well as guaranteeing immaculate, uniform application on edge and face.

 

I

ncluded are the in-feed and out-feed conveyors. These are both powered conveyors and are controlled by the PLC of the machine.
l Control Panel
SPM1300 has an electric control panel with PLC and machine control software, with a

15" colour touch screen panel is user friendly.
Technical Parameters of Automatic Oscillating Spraying Machine
Model
SPM1300PU
Max. Spraying Width
1300mm
Max. Thickness Of Work Piece
50mm
Max. Feeding Speed

5

m/min
Air Pressure
0.5-0.8 M pa
Total Power
1

3

kw

Foot Print

5400*4400*2500mm
Weight
4000kg

Operator

2 person
Footprint of Automatic Oscillating Spraying Machine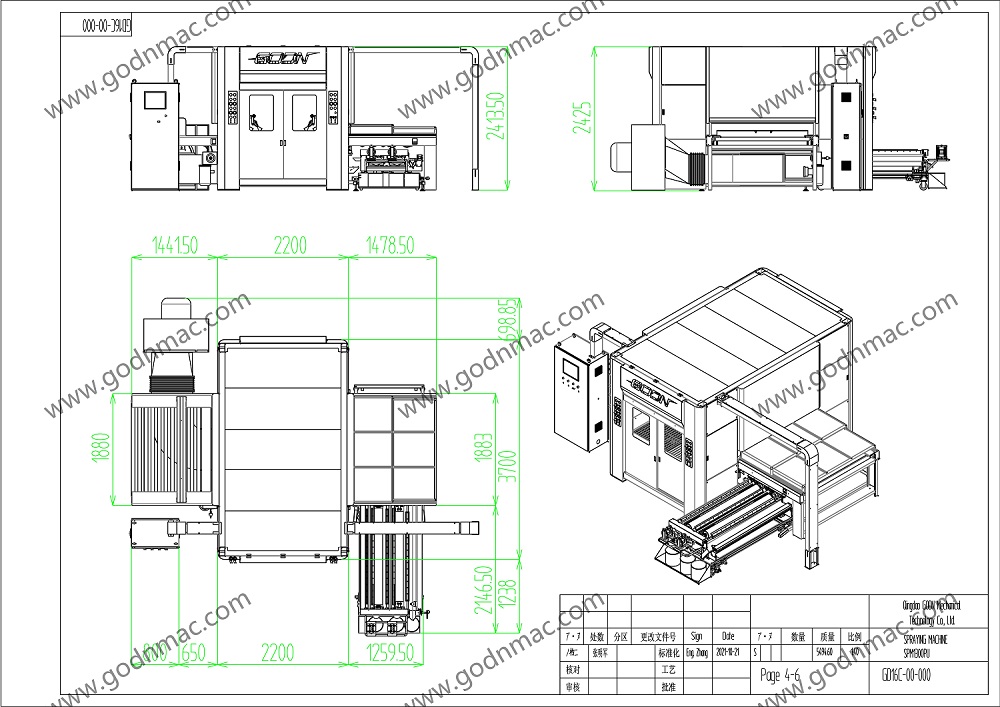 Application Fields of Automatic Oscillating Spraying Machine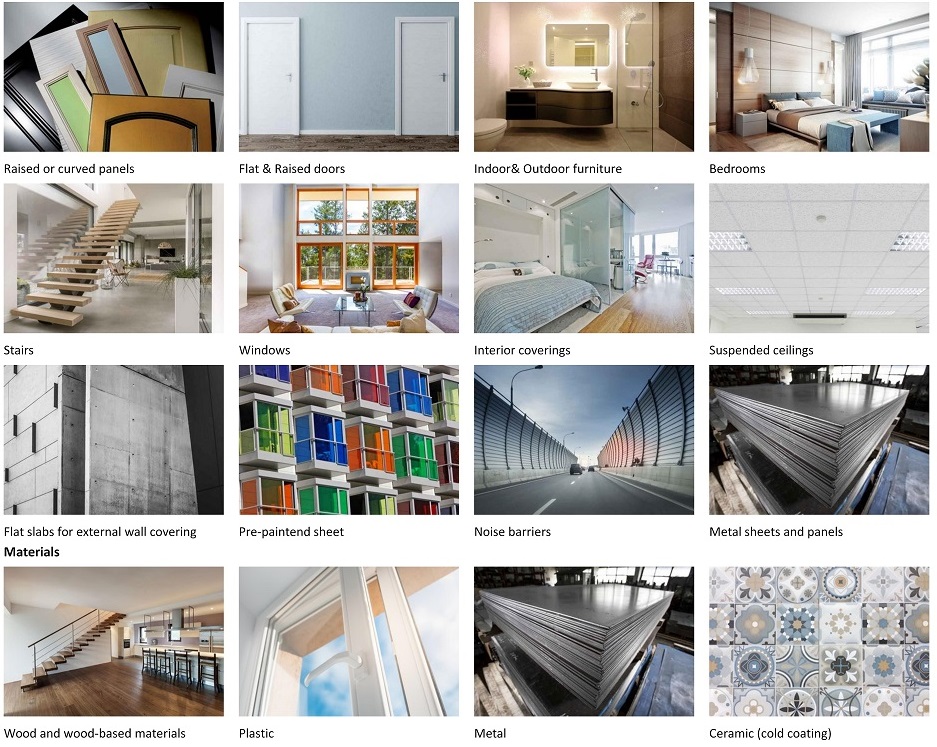 3 Reasons Why You Need a Automatic Spraying Machine
This is a question most often asked by smaller companies employing no more than a dozen staff. As the market becomes more demanding in terms of lead times and quality standards, manual spray coating techniques have a number of drawbacks.
You may not realise, but transfer efficiency is no higher 25% and often the pieces need to be re-sprayed when the quality achieved is not in line with the customer's expectations. Such issues are putting pressure on small outfits using manual labour and the pressure is felt not only by the owners, but also by the operators themselves.
Reworking products also takes time, not to mention the cost of extra lacquer and labour, and it leads to inevitably longer delivery times, something your customers will not appreciate. Reworks can be avoided.
Switching from manual to automated spray coating may seem like a step into the unknown for some companies, but the return on investment will soon be felt. An initial investment with some reorganisation of floorspace will be necessary. One or two operators will need to learn a few basics before being able to program the equipment, but once this is done, they will only need to oversee the process, load and unload workpieces and keep to schedule. What you will notice is that coating quality consistency will no longer depend on which operator is spraying, how much coffee he had or whether he is spraying well at 9 a.m. or spraying as best he can at 5 p.m. – it makes a difference!
How will an automatic spray coating machine improve all this?
Firstly, you will obtain the same quality without any variations, so once it is satisfactory, you just need to push a button and let the machine accomplish the rest.
Secondly, you will save on lacquer because transfer efficiency will increase significantly, in some instances reaching more than twice as much compared to manual spray coating.
Thirdly, your production efficiency will increase and consequently delivery times will be reduced, so you can accept more business and maybe extend your customer base.
Fourthly, labour costs can be cut because you only need one operator to manage the programming and supervision of the equipment, as well as loading and unloading the pieces.
So what are the 3 reasons?
Simple, we have created several spray coating solutions, but many of these are sophisticated machines handling complex geometries, processing on flatbed or overhead lines and using special anthropomorphic robots.
But there are 3 solutions which represent a perfect first step into the world of automated spray coating:
Before you make a choice, there are a few things to consider. Base your decision on the goals you aim to achieve, not on your current capacity. Consider your need to make frequent colour changes; in this case you should opt for CNC Spray Machine , an excellent solution when dealing with frequent colour changes or several small batches. Reciprocating Spray Machine can be fitted with one central or two lateral arms, and is good for small to medium outputs. Robot Pro will be suitable for handling medium to large volumes and can be fitted with a number of optional features.
If you are keen to learn more about moving from manual to automated spray coating, our experts will be happy to personalise the solution according to your real needs.
So if you are ready to explore the new potential awaiting you and your business, contact us for more details.
Automatic Oscillating Spraying Machine, Best Automatic Oscillating Spraying Machine, Automatic Oscillating Spraying Machine for Door, Automatic Oscillating Spraying Machine for wood, Good Automatic Oscillating Spraying Machine, benefit of Automatic Oscillating Spraying Machine, Advantage of Automatic Oscillating Spraying Machine, how to use Automatic Oscillating Spraying Machine, price of Automatic Oscillating Spraying Machine, Automatic Oscillating Spraying Machine supplier, Automatic Oscillating Spraying Machine factory, OEM Automatic Oscillating Spraying Machine, Automatic Oscillating Spraying Machine for metal, Automatic Oscillating Spraying Machine price, automatic Automatic Oscillating Spraying Machine, how much Automatic Oscillating Spraying Machine, Wood Automatic Oscillating Spraying Machine, Painting machine, Paint machine, Spray Machine, Wood machine, Automatic Oscillating Spraying Machine, automatic Automatic Oscillating Spraying Machine, door Automatic Oscillating Spraying Machine, Automatic Oscillating Spraying Machine China, Automatic Oscillating Spraying Machine for panel, Automatic Oscillating Spraying Machine for board, Automatic Oscillating Spraying Machine for cabinet, Automatic Oscillating Spraying Machines
---
---